Presents
Ch Centralgold Emmas Mate
Sire: Camrose Octavian (IMP UK)
Dam: Shannongold Truly Magic
Whelped: 6 November 1999
Hips 3:5 eyes cleared yearly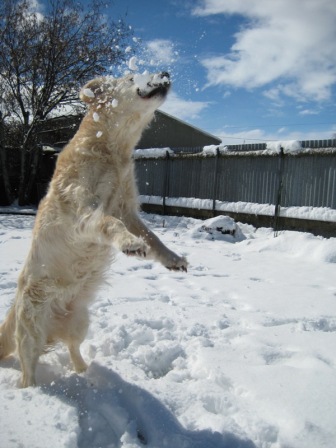 on 24 October 2013 at nearly 14 years of age we had to say goodbye to this lovely old girl. Miss this lovely old golden girl, more than words can say
Achievements:
Millie, Our daughter Emmas dog, Has done everything!
Millie arrived as a 5 week old puppy and her life has been very busy indeed. Emma and Millie have done obedience, agility, shooting, TV stars, pet therapy and breed showing.
Emma and Millie compete in Starter/ Novice level in agility.
Millie, often called the "Queen" is a lovely golden so happy and always wagging her tail.
NEWS FLASH …………………..Southern Golden Retriever Club, Pauline Johnson Memorial Championship Show, 103 entered and 41st Championship Show, 106 entered, 4th and 5th August 2007,
Sat. Veteran bitch class (4 entered) Millie 2nd judge: Mrs Shirley Barrett (Nelson)
Sun. Veteran bitch class (5 entered) Millie 1st Judge: Lei Taft (Hawaii)
Millie reserve bitch challenge and then VETERAN IN SHOW!!!!!!!!!
Otago-Southland Gundog Society Championship Show, Saturday 16th February 2008
judge: Mrs Carole Coode (England)
Millie 1st veteran bitch and then VETERAN IN SHOW! well done Emma and Millie
********** NEWS FLASH ***********
Millie has gained her 8th and final championship challenge certificate and is now Ch Centralgold Emmas Mate Well done Emma and Millie.
November Shows, Southland Kennel Association (3) and Otago Southland Gundog Show (1) Nov. 1st and 2nd 2008. Judges H Gent (Aust), J Green (NZ), E Ekstam (NZ) and L Buckley (ACT)
NZ bred bitch & Challenge in all 3 Southland Shows and Veteran Bitch in Otago Southland Show.
On the 22 October 2012 we travelled to the Southern Golden Retriever Specialty Show in Christchurch, judge: Eivind Mjaerum (Norway)
Millie placed 2nd in the Veteran class her critique is as follows "Ch Centralgold Emmas Mate, 13 years, in very good condition for her age, nice feminine head, beautiful expression, good bone, good body, moved well, good coat."

Judge's Critique: 41st Championship Show, August 5, 2007 Judge: Lei Taft, Hawaii
Veteran Class
1st. Centralgold Emmas Mate. Res CC. This lovely, near 8 year old bitch was level and the best moving in the class. She was not only balanced, with good angles fore and aft, her proportions were correct with a short loin and sufficient return of upper arm. Her withers were correctly placed above her elbows. Despite her age, she was in hot contention.
Pedigree of "Ch Centralgold Emmas Mate"

Parents
GrandParents
GreatGrandParents
SIRE

Camrose Octavian (IMP UK)     

Eng & Ir CH Papeta Philosopher

 CH Sansue Golden Ruler

Sh Ch Westley Sophia Of Papeta

Camrose Natasha With Shutan

Nor Ch Mjaerumhogda"s Crusader (IMP)

Rachenco Bonilass of Camrose

DAM

Shannongold Truly Magic

NZ & AUST Ch Arangold Autumn Albion

GR Ch Charterhall Gaelic Gold

Ch McIlroy Cherry Brandy

Ch Shannongold Temptation

GR Ch Shannongold Enterprise

Ch Graveleigh Solitaire