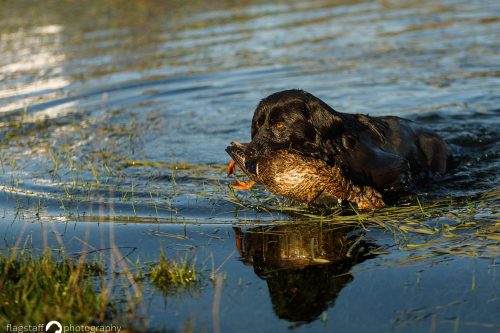 Welcome to Flagstaff Kennel, established 1995.
For as long as I can remember there has always been a dog in my life. When I got married I was lucky that my love of dogs could be expanded and I could participate with my family in many activities with the dogs.
Our love of Labradors and Golden Retrievers has lead us to many places over the country where we participate in any one of our chosen sports.
We have participated in field trialing with success, however at the moment we are more involved with rough shooting, breed showing, obedience and agility.
Truly versatile dogs, successfully used for hunting, showing, agility, scent work, obedience, NZ Land SAR search dogs, detector dogs for NZ Police and K9 Medical Detection, Pet Therapy and happy family pets.
All our dogs have proven themselves as hunting dogs.
We are situated at the bottom of the South Island, New Zealand. Not far from Invercargill, Southland. Close to many rivers, lakes and bush.
We hope you enjoy your visit through our site.
Homepage picture: Pip duckshooting 2023. More information on her individual page.
                                                                                                            We are planning a Labrador litter mid 2023
                                                                                               I am not taking any names for waiting lists for Golden Retriever pups
for more photos and videos of our dogs and puppies, look for our page on Facebook – Flagstaff Labradors and Golden Retrievers