Presents
Macpenno Shady Lady
Sire: Westwich Pocket Watch (IMP UK) (y)
Dam: Earnscleugh Lady (b)
Whelped: 4 August 1996
eyes cleared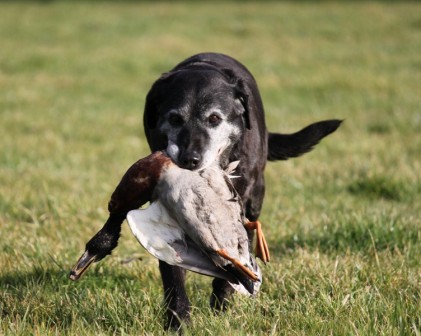 Ruby



on the 19th November 2010, aged 14yrs 3 months, my dear old Ruby passed away in her sleep. A fantastic old girl who I am going to miss greatly.
Achievements:
Ruby my first labrador. After watching Lyell enjoy field trialing with Jessie I decided I would like a lab of my own to trial. Hence Ruby arrived. Ruby has been my all round dog. She excells at rough shooting and I am going to hate the day she can't come out opening morning duck shooting. Ruby achieved well at field trialing competing in open and limit level.
Ruby is also very capable at agility having won out of starters and competes now in novice/intermediate level.
Ruby and I also have a bash at obedience. Have been placed at champ shows at Special Beginner level.
Ruby loves helping on the farm, hooning around on the motorbike and stealing swedes out of the paddocks!

Ruby has now retired from hunting and is enjoying life lazying around the farm and keeping an eye on the young ones.
Pedigree of "Macpenno Shady Lady"

Parents
GrandParents
GreatGrandParents
SIRE

Westwich Pocket Watch (IMP UK) (y)     

SH CH Poolstead Pocket Picker

 Sh Ch & Am Ch Receiver of Cranspire

Sh Ch Poolstead Pegg

Riley Bank Bunny

Sh Ch Poolstead Preferential

Riley Bank Polly

DAM

Earnscleugh Lady (b)

Bonzo of Sandyfields

Sandhaven Samson

Ladogo Paper Doll

Custdean Melody"s Echo

Custdean Theseus

Custdean Sweet Melody