Presents
Sandy of Leanto
Sire: Pablo of Kingsland
Dam: Joy of Playland
Whelped: 14 October 1977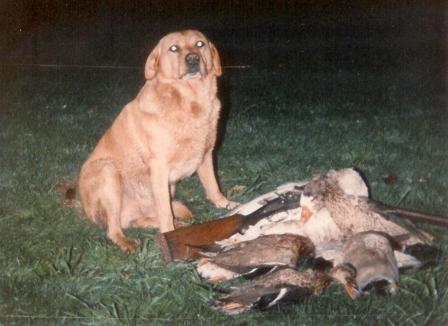 Achievements:
Mac, Lyell's very first labrador. Mac was a true gentleman. A beautiful nature and lovely made dog.
Lyell and Mac used to disappear for hours on end away shooting rabbits and hunting ducks.
Unfortunatley never left any puppies to carry on his lines.
Mac carries some of the very first Flagstaff lines. Our Kennel name Flagstaff was started by Lyells grandfather Jim Penno, well known in Field trialling.
We will always have special memories of this lovely dog.

Pedigree of "Sandy of Leanto"

Parents
GrandParents
GreatGrandParents
SIRE

Pablo of Kingsland     

Awamoa Joe

 Flagstaff Kim

Bell of Glenross

Delilah of Burrendah

Ch Comet of Egmont

Ch Burrendah Cream Cracker

DAM

Joy of Playland

Glenquiech Prince

Ft Ch Kamahi Flash

Ribbonwood Jeanie

Playgirl Penny

Playboy Bo

Pearl of Naught
Click back on your browser to see more of our Dogs.