Presents
 Flagstaff Total Eclipse
Sire: Hillthorpe Neptune (black)
Dam: Flagstaff Brown Branwen (chocolate)
Whelped: 6 January 2014
Hips: 4:2 elbows: 0:0 clear eye certificate June 2020, clear heart certificate (Richard Lucy), EIC clear, PRA clear, Dilute clear, HNPK clear, Cystinuria clear Long coat clear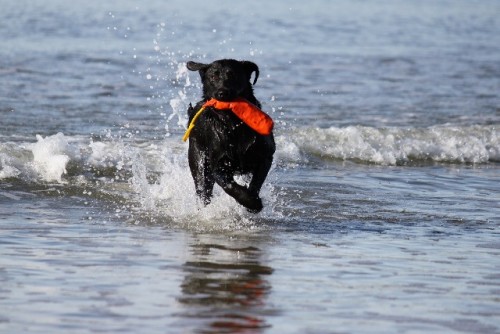 Achievements:
We welcome Bex to our kennel.
Showing heaps of attitude already, keen to pick up and retrieve anything! looking forward to the future with this lovely wee girl.
Bex happy to pick up her first duck at 4 months of age.
Bex has turned into a fantastic working dog. Super soft mouth, keen swimmer and has no hesitation going into scrub etc on the hunt for  wounded ducks. Marks and retrieves well and is a cracker on blind  retrieves!
Pedigree of "flagstaff Total Eclipse"

Parents
GrandParents
GreatGrandParents
SIRE

Hillthorpe Neptune (black)     

Vantoak Humbug (Imp UK)

 Grovehurst Edward of Vantoak

Vantoak Ellen

Clanfield Mixed Spice (imp UK)

Charway Ballycobnut

Follytower Clementine

DAM

Flagstaff Brown Branwen (chocolate)

Ch Roughfield Rhythm of the Rain at Flagstaff

Ch Roughfield Right as Rain

Ch Roughfield Hint of Spicza

Flagstaff Fullon Lady Bic

Amvikal Mckillops lad

Flagstaff Fullon